Fall Promotions
Check out our fall deals! Get free upgraded SEO services and 10% off web design or hosting packages. Now through Oct 1st.
Why Do I Need An Ecommerce Website?
The Importance of Ecommerce Website Solutions for Retail Businesses
Retail is a rapidly changing landscape, and ecommerce solutions have become increasingly significant in this transformation. Custom ecommerce website development has gained prominence as online sales continue to grow. Since 2010, ecommerce has experienced an average quarterly growth of nearly 15%. In 2018, online sales constituted over 10% of total sales in the United States.
Integrating a custom ecommerce website into your business model is vital for tapping into this potential revenue stream. This will help you maintain a competitive edge in the market.
As a premier provider of ecommerce web design services in Denver, our experts can help your business reach the next growth stage. We understand the importance of creating an ecommerce website that not only looks impressive but also provides a seamless and secure user experience. If you're ready to expand your business with custom ecommerce web development, contact us today for a professional consultation.
How Can Ecommerce Help Grow My Business?
Ecommerce is crucial for businesses as it offers customers a convenient online shopping experience, leading to increased revenue. Your website should make it easy for customers to browse, compare, and purchase your products. This will turn users into repeat customers who recommend your business to others. Having a well-designed ecommerce website can enhance your brand image and credibility since customers trust professional and user-friendly websites.
Millennials are becoming key decision-makers. This makes having an online retail presence essential for meeting their expectations and adapting to market changes. Businesses that fail to offer ecommerce solutions risk losing a significant portion of their customer base.
An ecommerce website can complement a physical store. It provides an alternative shopping method for customers who are unable or unwilling to visit in person. This helps your business stay resilient even when unexpected issues like the COVID-19 pandemic arise. It will ensure that your business continues to generate revenue and retain customers in such situations.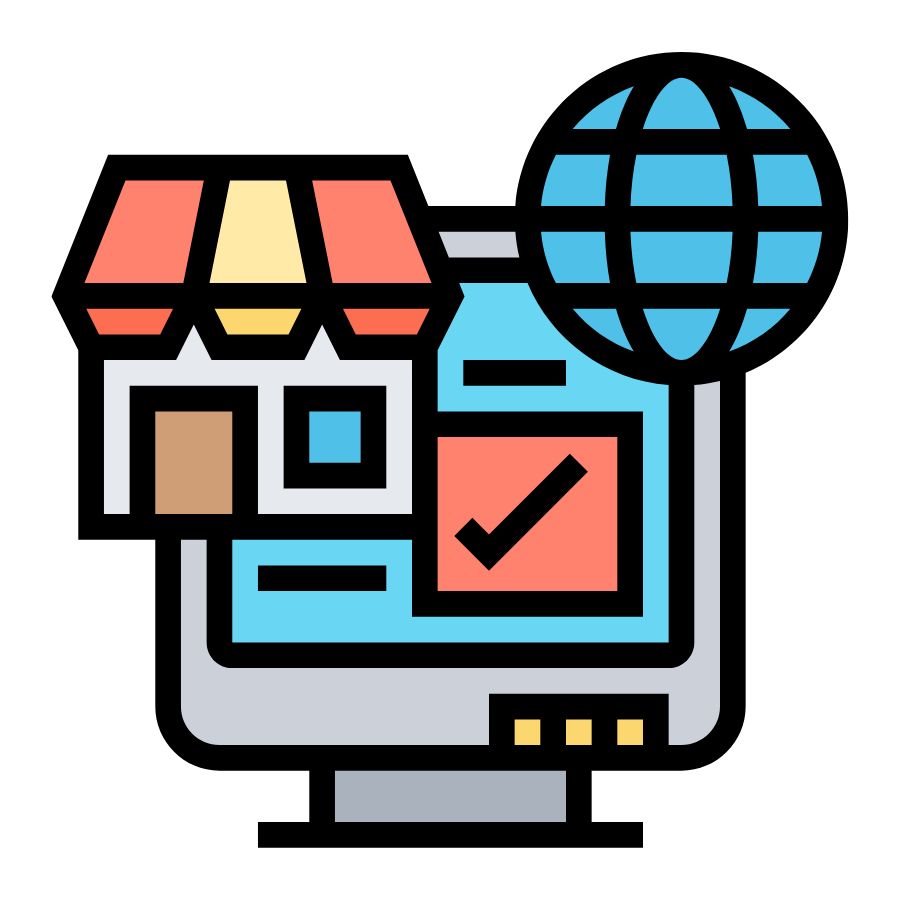 Ecommerce Website Development for Diverse Business Types
From retailers to service industries, nearly every business can benefit from ecommerce web design services. Custom ecommerce website development allows B2B and B2C organizations to expand sales channels, reach new markets, and enhance customer service.
Retailers
Retailers can supplement their brick-and-mortar locations with an online store, increasing their visibility and making their products available to a broader market. A website is available to your customers around the clock without requiring additional staffing. This allows you to generate sales outside regular business hours.
Service Industry
Businesses in service industries can also benefit from having an ecommerce website for selling services. Online appointment management allows customers to schedule and pay in one smooth experience. This helps save both you and your customers time and effort.
Non-profit Organizations and Charities
Non-profit organizations and charities can leverage ecommerce platforms for collecting donations and raising funds. This makes it easier for supporters to contribute to their cause. Ecommerce web solutions can also help automate and streamline membership management, event registration, and other administrative tasks.
All Business Types
Nearly every business can streamline operations by setting up online invoicing and a convenient payment gateway. Scheduling automated reminders makes it easy for customers to pay on time. Including a payment gateway improves your cash flow and reduces the time spent chasing payments.
Colorado Digital has worked with many companies across various industries to build a website and move their business activities online. We can get your business online by setting up payment gateways, creating ecommerce storefronts, or designing custom web solutions.
How Should An Ecommerce Website Be Designed?
Build an Ecommerce Website to Cater to Customer Preferences
When exploring your products and services, customers seek a user-friendly, secure, and informative online experience. They expect a responsive and engaging platform allowing them to discover and purchase your offerings without hassle. Furthermore, customers want their transactions to be secure, and their personal information protected as data breaches and cyberattacks become increasingly prevalent.
Customers want information about your products and services at their fingertips to make informed purchase decisions. Placing your product information online gives customers the power to make comparisons and buy confidently. A well-designed and informative ecommerce website can help reduce overhead costs. By answering common customer questions, you can minimize your staff's time responding to customer inquiries.
Out-of-the-Box Builders vs. Custom Ecommerce Web Development
While there are multiple ecommerce platforms available, such as Shopify, Squarespace, Wix, WooCommerce, and Magento, each has its own set of limitations and constraints. Partnering with a professional ecommerce agency like Colorado Digital ensures your website meets your unique business needs.
Our Denver-based ecommerce website designers create websites that provide maximum flexibility and control over your products. This provides you with complete control over your online purchasing experience.
You can tailor your purchasing experience to your user's needs by observing your users' behaviors and adjusting your website accordingly. This creates a compelling shopping experience for the visitor, leading to higher conversion rates and increased customer satisfaction.
Many ecommerce website builders lack flexibility, leaving business owners trapped without room to grow their websites. Every business has different needs, some of which won't fit neatly into a stock all-in-one solution.
Our strategy is simple. We merge reliable content management capabilities into an ecommerce setting. By combining the power and flexibility of these frameworks, we develop ecommerce solutions that meet the unique needs of your business.
Colorado Digital offers professional ecommerce web design and development services in Denver, Colorado, and throughout the US. We use secure, industry-best practices to maximize our clients' online exposure and success. Our skilled designers, developers, and strategists work together to create a custom ecommerce website that looks stunning, functions seamlessly and is secure.
We know that every business is unique. That's why we take the time to listen to your goals, challenges, and requirements before crafting a tailored ecommerce solution. We work closely with you from start to finish, ensuring we drive measurable results for your business.
Grow your business with a custom ecommerce solution by contacting Colorado Digital today at (303) 800-8424 or with the form below.