Image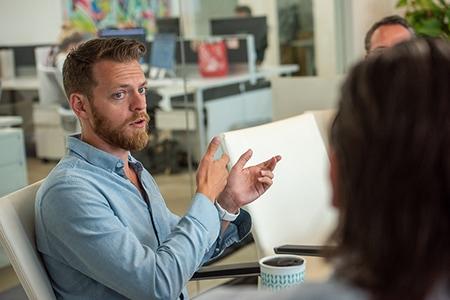 You want to improve your business's online presence. You might know exactly what web services you need, or you might just know that your online presence needs some work. Whether you know the specific work that needs to be done or not, we can create a custom web solution for you.
Don't delay the success of your business's website any longer. Get started with Denver's leading web developers, web designers, and digital marketing experts to take your website to the next level. Contact us today to get started.
Our Services
As a full-service web and digital marketing company, we have all the services, knowledge, and technology to make your web project a success. We'll help you assess your current website and help you create a path to achieve your business goals online. Whether you're looking for web development, web design, digital marketing, or anything in between, we can help! We'll work with you to develop a strategic solution that gets your website working for you and achieving your goals.
Custom Web Development
We build data-driven websites that offer a range of functionality. When you need a website or web-based application, we'll develop a customized solution that meets your unique business requirements. Learn more about our web development services and contact us to get started.
Web Design
We create beautiful, mobile-responsive websites that leave lasting impressions through positive user experiences. We incorporate your brand and image with eye-catching stylistic elements to create a beautiful design for your website. Explore our web design services and contact us to begin your project.
Digital Marketing
At Colorado Digital, we build award winning strategies that will help your improve your internet presence and generate more leads for your business. Discover the ways that digital marketing can take your online presence to the next level.
Digital Strategy
A customized digital strategy is one of the most important investments you can make in order for your company to grow and thrive. It's crucial that your web development, website design and digital marketing efforts are each implemented as part of an overall strategy to more effectively reach and exceed your objectives. Every dollar spent on digital strategy is an investment toward meeting your business goals!
Colorado Digital will work with you to achieve your business goals using all-inclusive digital solutions. Our Web Development, Website Design, and Digital Marketing experts work strategically with you to develop a goal-oriented digital business strategy based on data-driven research and creative, customized solutions.
Search Engine Optimization (SEO)
If you run a business, you're likely already aware that improving your SEO is necessary for growing your business. Like many business owners, you may also be unsure where to start when it comes to building effective SEO for your company. Search Engine Optimization plays an integral part in boosting your company's internet presence and bringing in qualified traffic and leads to your website, web listings, social media profiles, and more.
Pay-Per-Click (PPC) Services
An effective Pay-per-click (PPC) services provider can help you find and market to your target audience in a streamlined and efficient manner. PPC allows your business to target users with product or service-based ads in line with their keywords or interests. Unlike TV or print ads that charge a flat fee regardless of the ad's success, PPC ad services only charge your business based on each ad interaction (or click), meaning you only pay when your ad is working! Configuring and managing paid search advertising can be challenging, but when done professionally, PPC ads can be a very cost-effective way to advertise your company's products and services directly to potential customers.
Whether you're just starting out in your industry or trying to drive growth in a specific area of your business, Colorado Digital is equipped to manage your PPC campaign and drive results that are tailored to your unique business goals.
Website User Experience
User Interface (UI) and User Experience (UX) design help to provide a positive experience for your website's visitors during every stage in their journey. The Colorado Digital design and development team makes it easy for your website users to find what they're looking for to streamline the sales and conversion process. Using smart UI/UX Design, we can ensure your website is more user-friendly, intuitive, and supportive of your business goals.
If you are interested in custom User Experience and User Interface design services for a new or existing website, call to speak with one of our experts today.
Web Hosting
We host your website to ensure maximum availability, security, and speed. We understand that you need peace of mind when it comes to your website, and we provide that with our hosting services. Find out how our hosting platform will meet your business needs.
Ecommerce Website Development
Can your business benefit from selling your products or services online? A custom e-commerce website will provide your business with a virtual platform to grow your customer base like never before. The experienced team at Denverdata creates e-commerce websites with a focus on user experience to help boost online sales and keep happy customers coming back. We have the ability to update, import, and manage product systems with up to thousands of different products.
Learn more about Custom Ecommerce Website Development services by giving us a call today.
Social Media Management
Social media management offers a range of benefits to help your business thrive. Whether your business is just getting started or you run a company with a more extensive existing customer base, social media can be a powerful tool for reaching and communicating with new and existing customers.
The dedicated team at Colorado Digital understands the ins and outs of social media marketing. Our team is ready to help you with everything from the social media creative process to strategically implementing or analyzing a paid social media ad campaign's progress. Let us take the guesswork off your plate and bring your ideas into the networking world!
Content Writing Services
Whether you need fresh meta descriptions or multiple blog posts each month, Colorado Digital can write content that meets your business goals. We create a wide variety of content for businesses in all types of industries.
Reach out to our team to ask about customized content creation for your business.
About Content Writing Services
Database Development
A well-designed database is critical for any organization that needs to manage large amounts of data and ensure its accuracy, consistency, and security. We use specialized software tools to build and test databases, and they work closely with clients or end-users to ensure the database meets their needs and objectives. Effective database development requires a thorough understanding of data modeling, database architecture, and programming languages such as SQL and an ability to think critically and solve complex problems.
Get Started on Your Web Project Today!
Whether you know the specific web services you're looking for or not, we're eager to discuss your web project with you. Contact us today! We'll help assess your needs and determine the best web-based solution that will work for you.