Image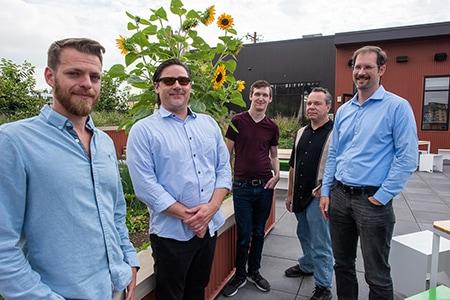 Where Our Story Begins...
Our story is a unique one, full of unparalleled passion, overcoming obstacles, and achieving success. It all started when Tom DeGerlia, our president and founder, got his first computer when he was 13 years old. Since that day, his passion for computers grew and grew. He developed his first commercial software product when he was only 13: A game of Indian poker which was distributed in a bundle of games in 1983.
As the years went on, Tom continued to explore and learn about the world of technology. He pursued a career in chemistry, thinking he would keep his passion for computers as a hobby. Despite his career choice, Tom soon became the go-to guy for helping the people at his company with their technology questions. After a couple years, he decided to forego his career in chemistry and pursue his master's degree in computer programming.
Bringing Passion to Life
Upon completing his master's, Tom got his first programming job in data transformation. He worked on projects focused on digitizing hard copy data into meaningful web-based products and building complex algorithms for image handling.
After a couple years of working in corporate software development, Tom saw an opportunity to leverage his experience in software and database development to create better solutions than what he was currently able to do. He wanted to bring value to clients in a way that no other business out there was doing, so he started his own software and database consulting firm in 1998. His focus was on developing meaningful database solutions for a variety of industries including aviation and image technology.
Then came the Y2K era where many web firms experienced the negative impact of this technology scare. Most businesses that worked in the web industry went out of business, but Denverdata Web weathered the storm and came out more successful than before. To come out on the other side was unprecedented in the web industry, but Denverdata Web prevailed.
A Bright Past, An Even Brighter Future
Since this victory, Denverdata Web has continued to grow stronger and stronger. As the web has evolved, so has Denverdata Web. We now specialize in web development, web-based applications, and search engine optimization to meet the demands of companies who do business online. Tom has built an amazing team that shares his mentality and focus of connecting technology with humans in a meaningful way.
We are problem solvers at heart, so we always focus on understanding customers' real-world goals, translating them into technology solutions, and implementing them in a way that makes the customer successful. Tom always says our goal is to "help non-technical people achieve their technical goals." Building successful solutions for fantastic customers is the key to who we are.