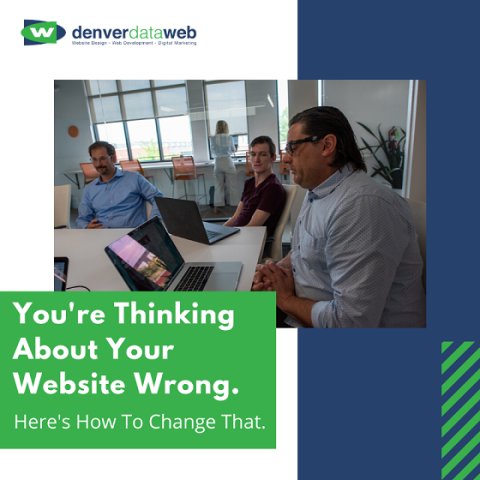 You're Thinking About Your Website Wrong. Here's How To Change That.
As the world begins to "open back up," I've been reflecting on the role that technology has played during my last 3 months of quarantine, both personally and professionally. Virtual happy hours replaced my in-person hangouts with friends and family. Google Drive and Slack became invaluable tools for effective collaboration with the rest of the Denverdata Web team while working from home. And my networking groups quickly shifted their meetups to take place online using Zoom.
Amidst all these changes, I'm aware that the past couple months haven't been easy for a lot of businesses. This "digital revolution" has exposed a lot of the ways in which businesses have fallen behind on their processes and technologies. Some businesses pivoted their digital strategies quickly, while others have been unsure of how to begin their own digital transformations.
No matter where you find yourself, we all need to reevaluate the way we view technology. It's no longer just a luxury for business but a necessity. We must be willing to ask tough questions like "How has our way of thinking about websites and digital assets become outdated?" and "How can we shift our mindsets for the future and long term success of our businesses?" Ultimately, businesses that invest in their technology will survive. Businesses that don't invest in their technology will fail.
We want to help your business navigate this digital revolution in a way that's accessible and actionable. We're going to explore some of the common ways that businesses view their websites and how these mindsets are limiting their growth as a company. Then, we're going to help you start thinking about your website in a way that's oriented towards getting results for your business.
TLDR: Recent global events have made it glaringly obvious that we all need to reevaluate the way we view technology and our business operations. Changing the way you think about your website is a great first step on your own digital transformation journey. Some of these shifts in mindset include viewing your website as a long term investment, improving your website's user experience, and integrating your website into the sales process.
Ready to start your business's digital transformation? Talk to one of our expert web consultants today!
Common Ways That Businesses Think About Their Websites Wrong
You Don't Consider Your Website To Be An Integral Part Of Your Sales Process
Think about the application process you went through for your current job. Were you hired simply on the basis of your communications and interviews with the employer? No! You probably submitted a resume and a cover letter as a tangible and concrete way to make yourself stand out in the pool of job applicants. It's important to start thinking of your website in the same way.
Your website is an integral part of establishing your credibility throughout the sales process. Potential clients are going to do their due diligence by researching your business. Your website will be a key factor in their research and decision process, so you want to ensure your website is professional and communicates your credentials. It can be the key differentiating factor between losing or closing a sales deal. By viewing your website as an integral piece of your sales process, you'll increase the number of qualified leads that convert into customers.
How To Change This Mindset: So how can you begin to improve the role that your website plays in the sales process? It all comes down to what you're communicating (credentials, past projects, services) and how you're communicating it (design, visuals, branding). Start to understand the role that your website plays in the consumer buying process by paying attention to these critical areas of your website:
Make sure your web design is professional and visually appealing.
Boost credibility by featuring your credentials, case studies, and awards.
Make it actionable for customers to get in contact with you by using chatbots and making your contact information easy-to-find.
You Only See Your Website As A Marketing Tool Rather Than A Valuable Asset
Alright, so maybe you already understand that your website plays a critical role in the sales process. However, you're limited its potential by only viewing it as a marketing tool. Why is this an issue? Imagine you have a genie in a bottle with 3 wishes. You think the bottle looks nice, so instead of using the wishes, you keep the bottle on your mantelpiece because it enhances the aesthetics of your living room. How crazy you'd be not to actually take advantage of your 3 wishes!
Alright, maybe it's a silly and elementary example, but many businesses treat their websites this way. They're satisfied that their website "looks nice" but they don't actually realize the potential their website has to improve the customer experience, increase employee productivity, and achieve great things for your business.
How To Change This Mindset: It's time to expand the potential of your website beyond marketing with unique features and custom functionalities. By doing so, you'll distinguish yourself from competitors in your industry. Here are some ideas on how to make your website a valuable asset to your company and make everyone's lives easier:
Customer portals where customers can view the status of their projects, important documents, and submit a support request right away if they need to.
Employee portals where employees can engage in training, professional development, and access their important employee documents.
Online learning platform to provide educational content to your target audiences.
You're Viewing Your Website As A One Time Investment That You Abandon After Launch
For a lot of businesses, just getting on the web is a major step in the right direction. However, if you're just viewing your website as a one time investment for your company, then your return on investment is going to plateau over time.
To make another analogy (can you tell I love analogies?), let's think about growing a plant. You get a pot, put in the soil, plant the seeds, and water it. Then, you put the pot on the windowsill, shake off your hands, and say "yep, good to go" and never touch it again. You come back a month later and are shocked to see it never even sprouted... "Why didn't it grow?!?" You shout out in exasperation.
You don't have to have a green thumb or be an avid gardener to see how ridiculous this scenario would be. Of course your plant is going to die if you don't care for it or nurture it. Your website is no different. You put in all the upfront work of developing your branding, messaging, and design, and launched your website. But you haven't touched it since April 2017... how do I know? Your copyright statement is outdated, the messaging is irrelevant, and no blogs have been posted in years.
How To Change This Mindset: Google is always striving to deliver the most relevant and up to date content to users. By updating your website regularly and viewing it as an ongoing investment, you'll make sure that your website appeals to Google's fresh content ranking factors. You'll also provide a positive experience to users by delivering on what they've come to expect from websites based on current technological trends. Viewing your website as an ongoing investment begins with a few steps:
Give your website a spring cleaning to update the most commonly overlooked parts of websites.
Create a schedule and plan to continue investing in your website whether that's with SEO maintenance, content writing, or a design facelift.
Get a consultation with a professional web developer to identify areas of improvement on your website.
You're Investing Too Much Time And Money Building On Top Of An Outdated Platform That No Longer Serves Your Business Goals
Maybe you read the last section and you're thinking, "I am continuously investing in it. I'm constantly working with my web developer to improve the website, but we're spending a fortune, it's getting harder to maintain, and we're watching our money go out the window." This is a common example of technical debt!
Technical debt occurs when you continue to build on top of a platform that doesn't serve your or your business goals. Businesses that find themselves in this situation are hesitant to make foundational changes and instead opt for "quick-fixes" with their websites. It's like putting duct tape over a leak in a water tank... it's a small solution for a very big problem... you need a new water tank!
How To Change This Mindset: When you really take the time to understand the value of investing in your website, you'll see that sometimes starting from scratch and rebuilding your website on a new platform is the best option. While this option might require a greater upfront investment, the long term value will deliver great results for your business. Not only will your website serve you and your business goals better, but you'll also experience cost savings in the long run.
Chat with an expert about whether your website has technical debt.
Learn more about how we helped a client resolve their technical debt with a brand new website.
You Aren't Giving Customers An Option To Buy On Your Website
Ecommerce is for everyone! If you sell anything (and if you're a business, you probably do sell something), then your website needs to provide an option for customers to buy online. Many businesses don't pay attention to this opportunity, which drastically limits their revenue potential.
Perhaps you're a brick and mortar store that has avoided ecommerce because you prefer to focus on in-person interactions with customers. Or maybe your business sells services, so you've dismissed ecommerce as something limited only to businesses that sell products. Whatever the case might be, if you aren't selling online, then you're missing out on major revenue opportunities for your business.
How To Change This Mindset: Ecommerce solutions provide customers with the ability to browse your products and services, schedule appointments, or streamline the buying process with an online payment system. If you're a business that sells services or products, you need to start using your website to support this buying process. Start giving your customers an option to buy on your website with the ecommerce solutions below:
Purchase products
Browse available inventory
Schedule consultations
Make a reservation
Make secure online payments
Pay their bills
You've Neglected The Mobile-Version Of Your Website
Over the last couple of months, you've probably noticed a decrease in your website's mobile search traffic due to stay-at-home orders. However, as people begin to move around again, they're also beginning to resume their mobile searches. It has always been important that your website is accessible to users across all devices, especially ever since Google started mobile-first indexing. Customers want consistency across all touchpoints and channels with your business. If your website is slow or not mobile responsive, then you're neglecting a major part of your target audience and their needs.
How To Change This Mindset: If you're just starting out with your business's digital transformation, focusing on the mobile-version of your website is a great place to start. You'll improve the customer experience across all devices and help them engage more easily with your company no matter where they're searching from. Here are some ways that you can begin making your website more accessible on mobile devices:
Tap-to-call phone numbers
Make sure the design of your website looks clean and consistent across all devices.
Make the most important information quick and easy to find.
Increase tap size targets.
Improve your website's performance and load time.
Invest in responsive web design.
You're Not Tapping Into The Wealth Of Knowledge That's Available About Your Website Visitors
Remember the overwhelming wave of relief you'd have in school when the teacher announced an open note or open book exam? Imagine if you responded to your teacher, "I'm not going to use my notes and book because I'd rather take this test based on intuition and gut instinct." Your teacher would consider you crazy for passing up on this opportunity to have immediate access to the knowledge and data for the subject matter at hand.
Many businesses take this approach when it comes to major business or marketing decisions. Instead of relying on data to guide their decision making, they take actions based on gut instinct or intuition. This results in poorly developed strategies that lack insight into their target audiences.
How To Change This Mindset: Digital transformations are driven by data and analysis. If you really want to transform your business, then you need to have the knowledge that will drive decision making both now and into the future of your business. Start taking advantage of the wealth of data that your website contains about your business performance and your target audience with these steps below:
Install Google Analytics on your website to begin understanding user activity on your website.
Track conversions to understand valuable actions taken on the site.
Set up reporting in Google Analytics to understand site visitors, average session durations, conversions, and more.
Start A/B testing and other conversion rate optimization testing methods.
Perform keyword and market research to understand the behavior of your target audience better.
We hope these examples helped to shed some light on ways that you might be limiting the potential of your business and website. Every situation is completely unique and different. If you're not sure which mindset you fall into or you'd like to start exploring options to start shifting your mindset, let's chat about your business goals.