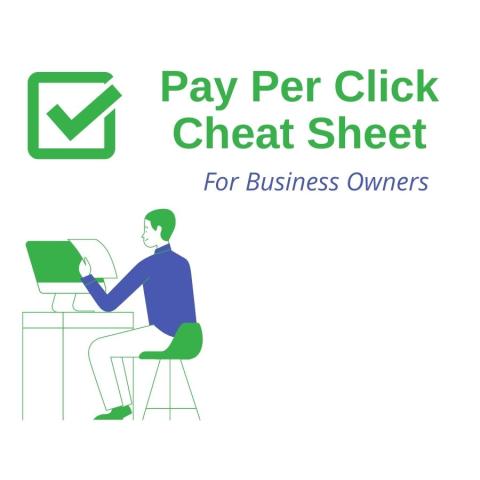 Understanding Your PPC Services
The world of Pay-Per-Click (PPC) advertising can be confusing and hard for business owners to navigate. The following PPC Cheat Sheet is designed to help business owners understand the following details regarding PPC Campaign Services:
Understand and analyze your ad campaigns to help you reach your business goals.
Communicate more effectively with your PPC agency.
Questions about your PPC Services
Are you getting regular campaign performance reports from your marketing agency?
Why this is important: If you have a company running your PPC campaigns for you, you should be getting a monthly or quarterly campaign report to help you understand where your money is going and to monitor your ad performance. If you are not currently getting a campaign report, ask your marketing company if they can provide you with one. Most companies can easily generate this type of report to be sent out on a scheduled basis.
What metrics are you given in PPC reports? (ad spend, clicks, impressions, etc.)
Why this is important: The general rule here is that the more metrics you're able to review, the better, particularly when you're analyzing the efficacy of your business's marketing strategy. However, too many metrics may be difficult to digest. In short, the essential metrics for analyzing your campaigns will include ad spend, impressions, clicks, and conversions on the campaign level. The same metrics broken down granularly by ad group or even by each specific ad or keyword are also important, particularly if you're running ads for various service offerings. Additionally, analyzing data such as ad quality score and click-through rate can serve as a high-level indicator for how your campaigns are performing.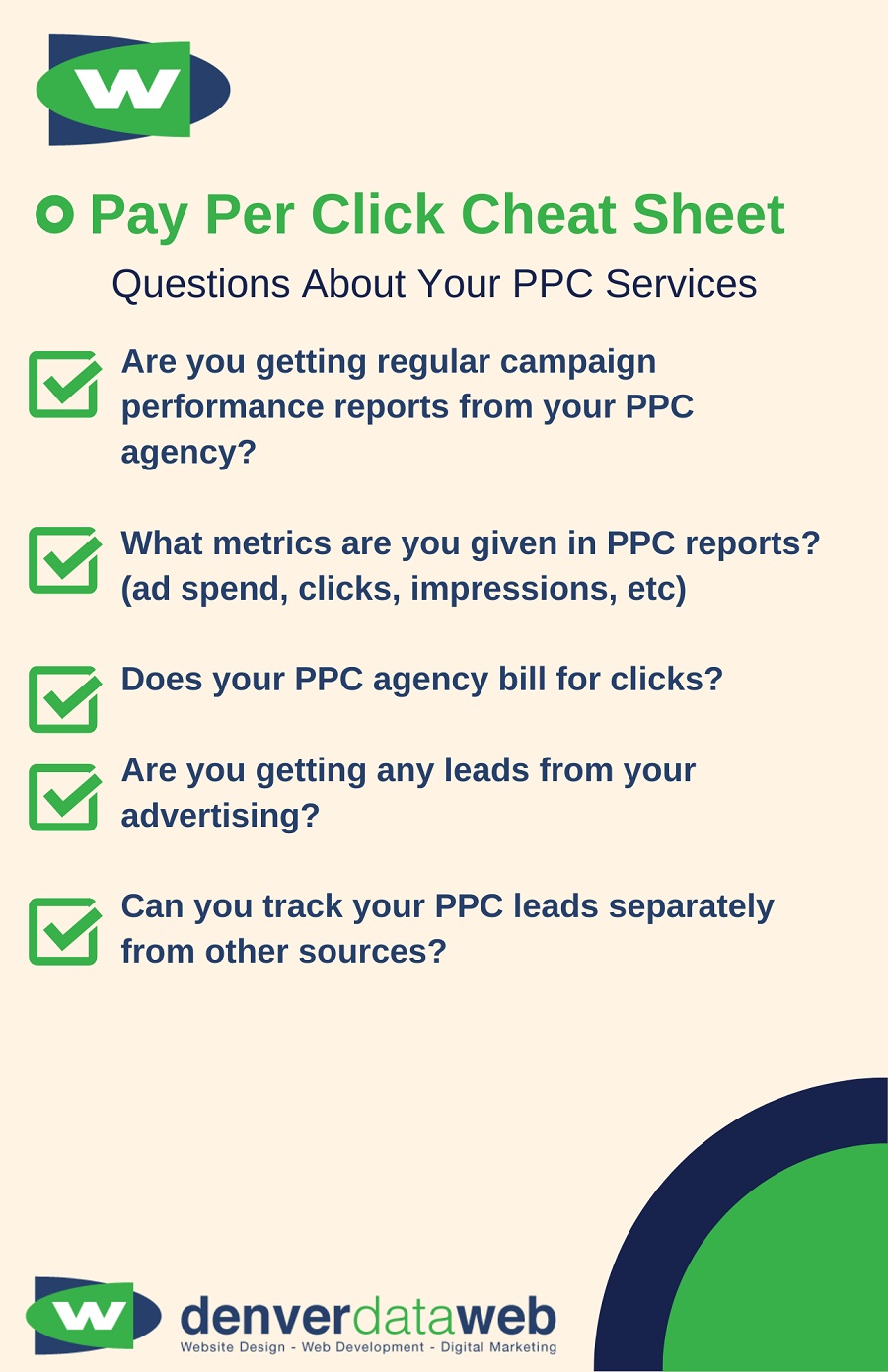 Does your PPC agency bill for clicks?
Why this is important: While this is not necessarily a bad thing, knowing how you're being charged will help when choosing or changing PPC service providers. Some PPC agencies will charge more for their services while covering the cost of your ads, while others will charge less for services but have you pay for each click you receive on your ads.
Are you getting any leads from your advertising?
Why this is important: Unless your company is running ads for general brand awareness or exposure, you're probably advertising to bring in more leads and sales. In short, if your ads aren't bringing in leads, then the ads aren't working for your business. It's important to note that newer ad campaigns will often take 2-3 weeks to reach their full potential. On the other hand, if you've been running ads for months without a significant increase in leads, then it's time to reevaluate your PPC company or ad strategy.
Can you track your PPC leads separately from other sources?
Why this is important: This is one of the many reasons why a regular PPC report is necessary. However, a report alone may not always help you connect the dots when it comes to lead tracking. Ask your marketing company if there are options for call tracking or goal tracking that can be tailored to your ads or landing pages. When correctly set up, it becomes relatively simple to analyze this data within your Google Analytics account to determine the sources of all your leads.
Questions to ask your marketing company
How often are ad copy and keyword bids reviewed and updated?
Why is this important: While it's not advisable to constantly update or edit your ad campaigns, your keyword bids and your ad copy are the two areas of your campaigns that should be monitored carefully on a regular basis. Checking in on keyword bids about 1-2 times a week is ideal, particularly since this can change quite often. Additionally, updating keyword bids is one of the few changes you can make that will not require an additional approval process . On the same note, reviewing ad copy weekly allows for a deeper understanding of what types of verbiage resonate with customers.
How often are keywords and targeting reviewed and updated?
Why is this important: Keywords and targeting are the driving forces for your campaigns. If your keywords or targeting are not aligned with your business goals, your ads will not do you much good. Campaigns that are not adequately targeting users may end up overspending, underperforming, and just wasting your money. In general, your PPC company should be evaluating your targeting and keywords 2-3 times each month to determine if the targeting is working to achieve your goals.
Are the campaigns and ad groups segmented by service offering?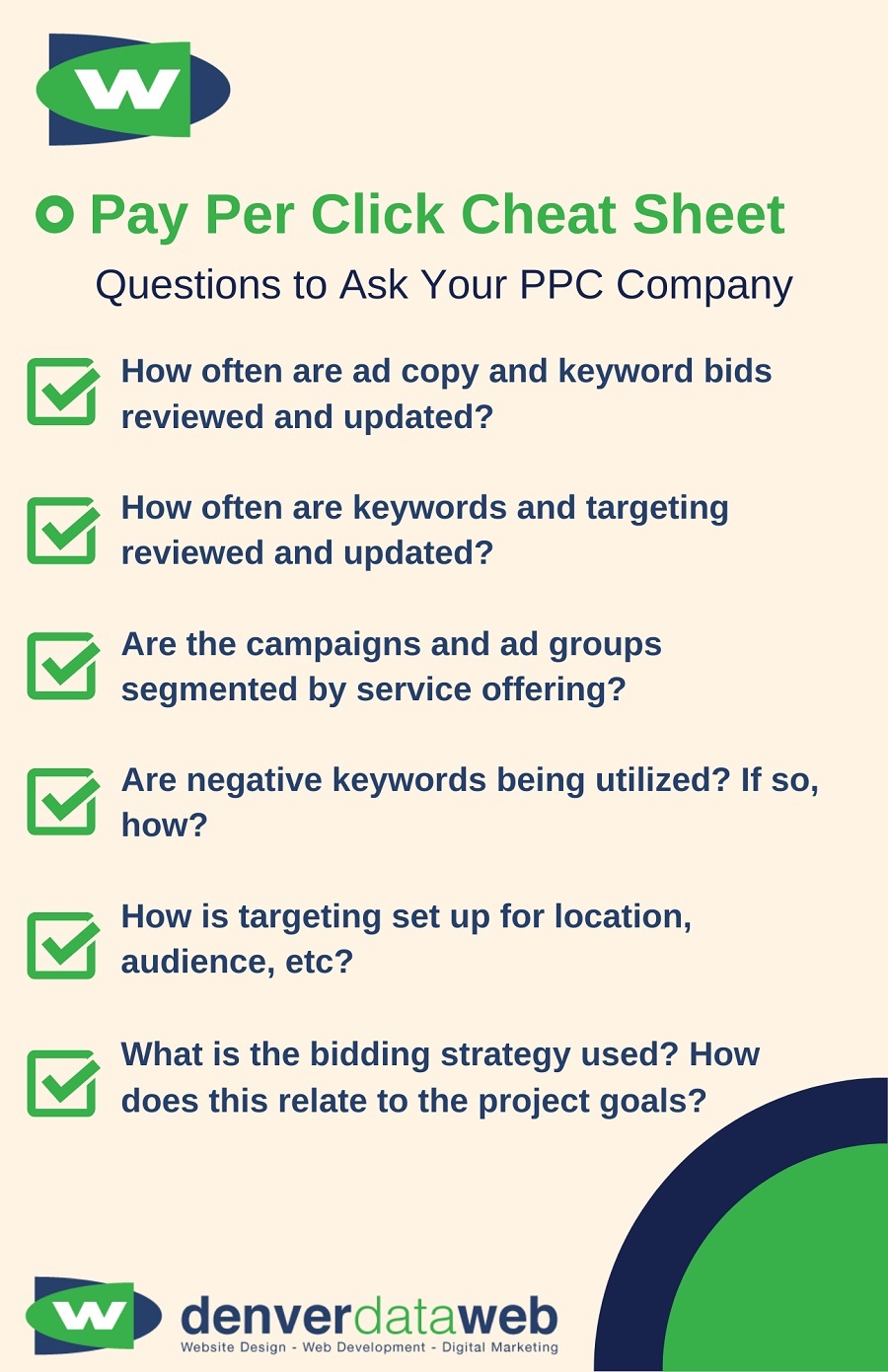 Why is this important: If your goal is to bring in leads for specific service offerings, then having your campaigns segmented is essential to effectively target the audience for each of those offerings. Some marketing companies may choose to lump all keywords and categories into one campaign or ad group, which can lead to poor targeting for most service types.
Are negative keywords being utilized? If so, how?
Why is this important: Keywords can often apply to more than one related service, or even have more than one meaning depending on the context of the word. Implementing negative keywords for each campaign or ad group can help your ads show for only the most relevant search queries. If negative keywords are either being misused or not used at all, then it's possible you're either overspending or missing out on important leads.
How is targeting set up for location, audience, etc?
Why is this important: Location and audience targeting are arguably the most crucial aspects of fine-tuning your ad campaigns. In short, you want your ads to reach your target audience, and you want only your target audience to click on your ads. If your ads are reaching locations outside where your service offerings are available, these clicks are wasted. If you're targeting an audience that is not likely to want or need the services offered, you're wasting money that can be better spent on a well-targeted audience. Targeting should be evaluated by your marketing company monthly or quarterly to ensure best practices and fine-tune strategy.
What is the bidding strategy used? How does this relate to the project goals?
Why is this important: The bidding strategy used for your campaigns is a significant component of how much money your ads are costing. For newer campaigns, it's advisable to use Manual Cost-Per-Click (CPC) or Enhanced Manual CPC. More automated bidding strategies such as Maximize Conversions or Target cost per acquisition (CPA) will allow Google to have more control over how much your ads ultimately cost. While automated methods can sometimes help achieve certain project goals, this is only the case for campaigns that have collected enough data. Automated bidding is not advisable for newer campaigns.
Check out our PPC Cheat Sheet Chat on YouTube!