About The Project
In January of 2021, Denverdata Web began working with an independent photographer looking to grow their customer base through search engine optimization (SEO) and social media. The customer initially signed on for a 3-month digital marketing contract, stating that they would be happy to continue services if they were happy with the results.
The photographer had a wide range of experience and an impressive client list and portfolio. They also had a keen interest in working with unique projects involving travel, charity, and diversity of all types. This posed a compelling challenge to help grow the business in a profitable direction that also met the customer's interests.
The customer had also recently procured a brand new website. This was both a challenge and a great opportunity. A new website requires a lot of work and often will take several months to rank well on search engines. On the other end, many of the underdeveloped aspects of the new website allowed us the ability to custom tailor its features to help meet the customer's goals.
Business Challenge
Craft another developer's newly built and underdeveloped website to meet client goals
Build SEO optimized content without distracting from the main website features (i.e., photographs and videos)
Bring in leads that are both profitable and that meet the client's unique interests.
Use the client's already impressive scope of work to help promote the business.
At the client's request, carry out self-promotional efforts as organically as possible.
Create new social media platforms to reach existing groups of potential clients and to promote their impressive scope of work.
Project goals
Take the opportunity to build up underdeveloped aspects of the website with SEO-optimized and user-friendly elements. Improve both user experience and search engine presence in the process. (Includes: calls to action (CTAs), URLs, metadata, general site user experience (UX), menus and styling, etc.).
Collect insights and experience highlights from the client to help create SEO-optimized blog posts that work with the imagery instead of distracting from it.
Appeal to a wider audience base by using social media and including searchable keywords throughout the website.
Seek out existing photo credits across the Internet to turn into new referral and link-building opportunities.
Use social media platforms as a way to showcase the client's work organically.
Use social media to get in front of new customers and build professional relationships through networking.
Project results
The photographer started working with us in February of 2021. We spent the first month analyzing the field and current data trends and building a solid strategy before we dove into performing SEO and digital marketing services.
During the first month of SEO and Digital Marketing, the client's site ranked in the top 100 for 3 of their 24 targeted keywords. Included in their rankings were also several variations of their business name. The client had reported to us a lull in calls and emails through the website before working with us and a stark drop in rankings with their new website.

Within five months of optimizing the site for SEO and making link-building connections, our client's website now ranks for 16 of their 24 targeted keywords. They have reported a steady increase and occasional surplus of calls and contacts through the website. Social media audience has grown by over 1000 followers collectively across all platforms.
The most striking improvements we've seen cover the customer's website traffic, which has increased almost 425% year-over-year (YoY) averaged across all acquisition channels. This increase was not only impressive but offered a heap of data that allowed us to glean additional insights related to many areas of our client's goals.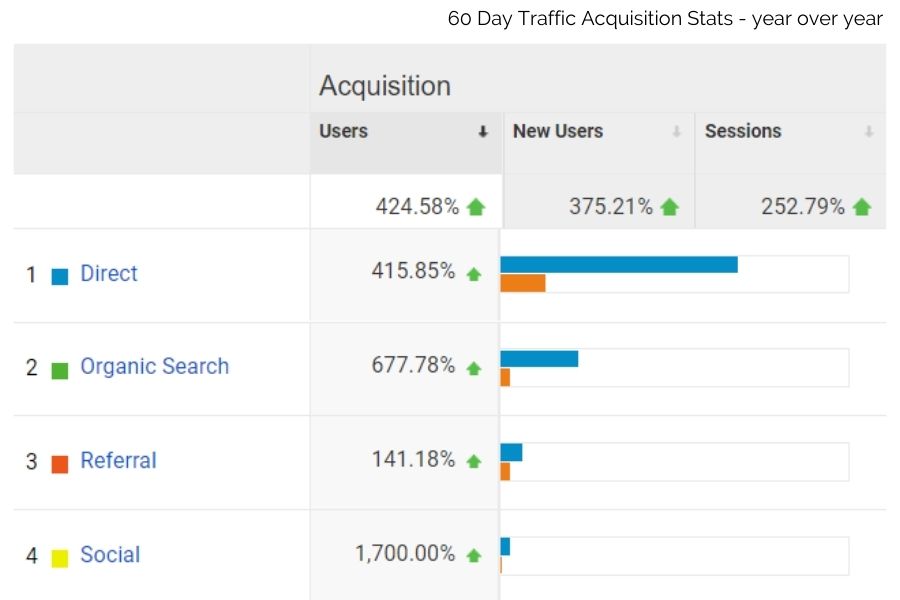 Although direct traffic can be challenging to understand and trace, we attribute the 400%+ direct traffic increase YoY to a combination of word-of-mouth referrals, referrals with incorrect subdomains (i.e., HTTP instead of HTTPS), redirected referrals still using old-site URLs, social media referrals from personal accounts, or possible even misattributed analytics. Though Analytics doesn't offer enough information to determine much about direct traffic, each of the potential sources represents an area aligned with the client's goals and Denverdata Web's goal-focused efforts.
Moving onto the near 700% increase in organic (or SEO) traffic YoY, we can attribute this to the on-site SEO efforts made with keyword alignment in blog content, metadata, and other on-site attributes. We expect the organic traffic data to continue increasing along this trend as we continue SEO efforts for our client.
Referral traffic is the one source where although we saw an improvement of more than 140% YoY, the data shows a smaller increase than what we had anticipated. Much of the work we did with the photographer's website related to gaining referral traffic through increased link-building, 
meaning that we expected a more substantial increase in referral traffic. However, with link-building efforts, there is always limited control over how the referral domains link to the referred site. As mentioned above in our direct traffic explanation, we hypothesize that many backlinked URLs may either be using an incorrect subdomain or a page path variation that is successfully redirecting to our client's website. It's important to note that although this misattribution may be challenging to prove, our predictions and strategic analysis show that it has likely been the case.
Though social amounts for the lowest traffic acquisition, the 1700% YoY increase is primarily a result of the social platforms being brand new. Prior to this year, the photographer had used only personal social platforms to promote their business. Since implementing new social media profiles, regular social media posting and interaction have been a significant factor in improving site traffic.
Conclusion
At the end of the three-month initial contract, the photographer excitedly chose to continue digital marketing services with Denverdata Web, stating that working with us was "a great investment." Our client continues to inform us about receiving steady calls and emails through the website, and we absolutely love hearing about all their fascinating new job opportunities.