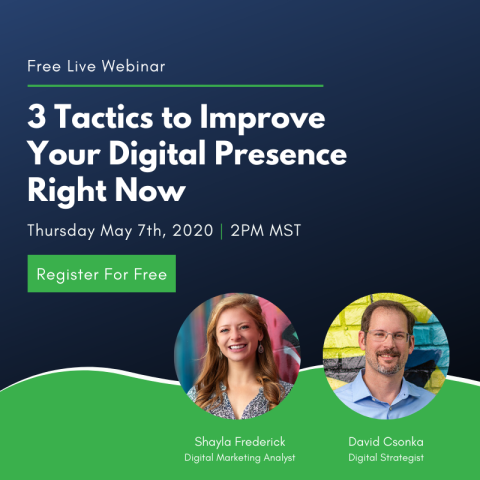 With everything transitioning online, you might be trying to figure out how to keep customers engaged during this time. Your digital presence is more important than ever, and right now is the perfect time to make sure you're investing in your online digital strategy properly.
On Thursday, May 7th, Denverdata Web will be hosting a free live webinar where we'll demonstrate 3 free or low-cost marketing tactics that your business can take right now to maintain online visibility with your customers. It's perfect for any business that's looking for actionable ways they can improve their digital presence right now.
We'll be highlighting the best strategies to focus on in response to COVID-19. However, these are timeless best practices that you can incorporate into your digital strategy over the long term. You can expect to leave the webinar with specific actionable steps that you can start applying to your business right away. We'll also provide you with strategic insight into current digital trends that you can use to identify niche opportunities within your industry.
Register now to secure your spot in the webinar.
Note: If you're unable to attend the live webinar, we'll be recording it and sending it to all registrants.