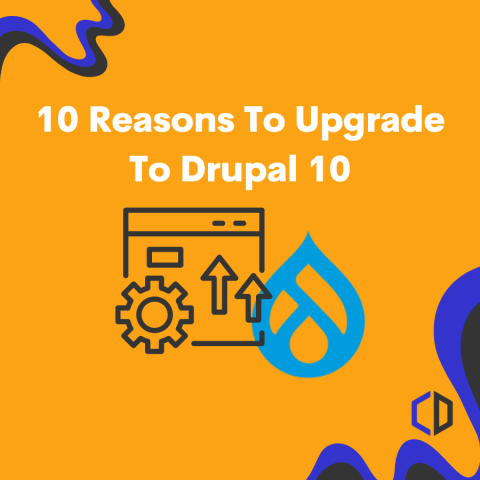 Why You Should Migrate To Drupal 10
In the fast-paced digital landscape, staying ahead of the curve is crucial for the success of any online platform. Drupal, a renowned content management system, has recently unveiled its latest version - Drupal 10, a game-changer filled with exciting features and improvements. Here are ten compelling reasons why migrating to Drupal 10 can be a boon for your digital platform.
Boosted SEO: Drupal 10 is designed with a robust focus on Search Engine Optimization. The revamped handling of URLs, meta tags, and structured data can significantly amplify your site's visibility. Not only can it drive more organic traffic to your platform, but it can also substantially enhance revenue generation.
Cost-Efficient Maintenance: The newest version of Drupal reduces the demand for continuous maintenance and support, translating to lower operational costs and improved return on investment.
Scale with Confidence: One of the standout features of Drupal 10 is its focus on performance and scalability. It effortlessly accommodates increased traffic, thereby supporting your business growth and potential revenue increase.
Robust Security: Drupal 10 incorporates numerous security upgrades that minimize potential attack vectors and fortify your platform's security, aiding in the protection of crucial customer data and the mitigation of cyber threats.
Superior Performance: Experience speed like never before with Drupal 10, optimized for swift performance and scalability. Its features like lazy image loading, enhanced caching, and proficient asset management accelerate page load times, thus elevating conversion rates.
Innovative Features: Drupal 10 introduces novel features like advanced multilingual support and a new Media Library for easy management and reuse of multimedia assets, expanding your global outreach capabilities.
Inclusive Accessibility: Built with an inclusive design, Drupal 10 caters to users with disabilities and older users, helping your business broaden its audience reach and foster inclusivity.
Future-Readiness: Upgrading to Drupal 10 ensures you're on the forefront of technology with the most up-to-date and secure version of Drupal, helping evade future security and compatibility issues. It guarantees your site's compatibility with the latest versions of third-party modules and plugins, enhancing your site's functionality and performance.
Improved Collaboration: With Drupal 10's new Workflow module, simultaneous content creation becomes a reality, enhancing team collaboration and speeding up the content generation process.
Mobile-Optimized: Embodying a mobile-first ethos, Drupal 10 optimizes for smaller screens and touch interactions, enabling your business to cater to a wider mobile audience through mobile-friendly websites.
Get Started On Your Drupal Migration Today
Drupal 10 is a big leap forward in the world of content management systems with its cutting-edge features, along with an enhanced focus on performance, security, and accessibility. So, step into the future with Drupal 10 and migrate your website today!