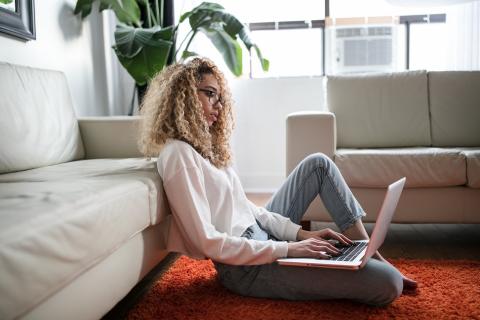 With the growing need for social distancing amidst COVID-19, many businesses must quickly set their employees up for remote work. This transition can be daunting, especially for companies whose foundations are built on human interaction.
Perhaps you're worried about cybersecurity and the heightened risks associated with employees working from personal computers on their home networks. Maybe you're struggling to maintain a sense of human connection with your clients in meetings and phone calls. Or, the overall morale of your employees is low due to uncertainty as they adjust.
Our company has incorporated remote working into our team operations for years, so on some level we've already gone through the pains of figuring it out. To try and do whatever we can to help our community we've developed a list of tools and resources that you can use to facilitate getting your team ready to move to operating virtually.
How can I make sure my company is complying to cybersecurity measures while working remotely?
Personal Computers
With more of your employees using their personal computers, you need to make sure their security systems are up to date. Make sure your employees are running anti-virus software and updating their operating systems (MS Windows).
Secure Internet
If your employees work directly with confidential client information, personal WiFi networks might not have the same level of security as your in-office network. Protect the privacy and anonymity of your employees and the work they're doing with a virtual private network (VPN). Need to determine if a VPN makes sense for your business? Read this article from How To Geek!
We can provide referrals to an IT support company that can set this up for you.
How can I stay in communication with my employees and clients?
Video Calling
Video calls are the perfect way to maintain a sense of human connection with your employees and clients while working remotely. Whether you need to have a team meeting or a check-in call with clients, use one of these reliable video calling platforms. They can support multiple users and have screen sharing capabilities, giving you everything you need to almost feel like you're right there in a conference room with them.
Work Chat
In the office, you can pop over to your coworker's desk when you need an immediate answer about a project. With remote work, however, communicating with your coworkers can become more difficult since everyone is in a different location. These tools will help you keep your company conversations streamlined and organized.
Phone Calls
With your employees working from home, they might not have access to company phones anymore. As a result, they might be hesitant to give out their personal phone numbers to clients or prospects. These tools give you alternate business phone numbers that operate over a personal mobile phone, so people don't have to give out their personal mobile numbers.
Webinars and Events
If your business is in the event industry or you're trying to connect with your target audience in a creative way, you need a platform that can support your webinars or events. These platforms are great for hosting live events, courses, workshops, and webinars for your business.
Live streaming on Facebook, Instagram, and Youtube
How can I stay on top of administrative tasks?
Contracts and Official Documentation
During this time, you might be wondering how you'll be able to get clients or business partners to sign contracts and official documentation. Having a tool that will allow you to complete these processes digitally will help you keep business agreements and sales efforts moving along.
Project Management
With all of your team members working in different locations, it might be daunting to try to remain organized and on top of tasks, to-do lists, and projects that need to be completed. Keep your organization's to-do lists in one place with these effective project management tools.
Documentation
With your employees working from home, they need to be able to access important documents and share files immediately. If your company has not already made the transition to a cloud storage system, this is an excellent time to get your internal files and systems organized using these tools:
How can my company maintain efficiency?
Schedules and Flexibility
Some of your employees are trying to work with kids at home, maybe even really small kids. Those people need flexibility, but also the capability of the rest of the team to adapt. It's important that you develop an understanding across your team that sticking to a strict 9 to 5 schedule isn't going to be feasible for some members. They must be able to adapt to the fact that communications may come from really early in the day or late at night, whenever they can get a little bit of quiet time from their kids.
Communication Turnaround Times
Communication is critical to maintaining business efficiency. It's important that you establish a standard turnaround time for business emails, so you can ensure that conversations are streamlined and kept alive. Want to know whether someone has seen your email or if they're ignoring you? Installing this tool will give you those answers:
Mailtrack for Gmail
How can we all maintain a sense of morale when working from home?
Employee Morale
Everyone in your business is going through a major transition period right now. Increased isolation, social distancing, and stay-at-home orders can leave your employees in need of a healthy morale boost. Give your employees a mood boost with the following methods:
Chatter channel
Virtual happy hours
Company-wide book club