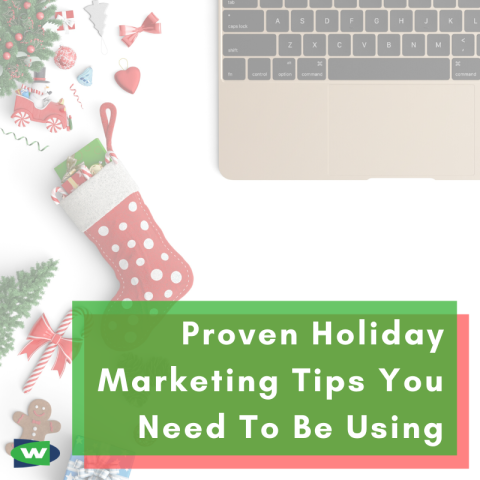 It's the most wonderful time of the year…. The holidays are starting! You have so many things to look forward to: delicious food, quality time with friends and family, and a bit of rest and relaxation. However, you might have one thing that you're not looking forward to about this time of year: the holiday season slowdown. Unless you're an online retailer or seasonal business, it's likely that your business has historically experienced a noticeable downturn in sales, leads, or revenue during the holiday season. Key decision makers are away on vacation, making it difficult for you to close sales. Important responses from clients are few and far between, being replaced with "Out of Office" notifications. Your services and products are experiencing a decrease in demand as people are directing their time and energy towards holiday celebrations. Altogether, these factors don't always make it easy to maintain momentum during the holiday season. This year can be different! We're here to share some holiday marketing tips with you so that you can remain strategic in all your business endeavors this season. Keep reading to find out how you can make this the most wonderful time of the year in all areas of your business.
Share the Holiday Spirit with Your Customers
Just as you're investing in your family and friends during this time of year, it's also a great time to invest in your current client relationships. Simple things like holiday wishes, thank you notes, or greeting cards can go a long way in making your clients feel valued by your company. Nurture your relationships with your clients by sharing some holiday spirit. Think of Christmas as an opportunity to give your customers a gift that shows your appreciation. For New Years, express your excitement to be heading into another year of business with long term customers. Take it a step further by adding personal touches that will make those connections feel extra special. There are an endless number of ways to spread the good cheer with your current customers this holiday season. They'll feel looked after and taken care of by you, which in turn will generate positivity and good vibes for everyone! Whichever way you choose to show your customers some love, they're sure to feel your appreciation. Action Item: Choose one specific way that your business can show your current customers some love. Add a personal touch and make it happen! Going the extra mile will not go unnoticed and will certainly help you stand out in the minds of your customers.
Explore New Opportunities That the Holidays Present
Don't write off the holiday season as a slow sales period! There are a limitless number of opportunities to connect with customers and drive sales during the holiday season. It's up to you to open yourself up to new and creative ideas.
Brainstorm Creative Ideas With Your Company
You can generate some fresh ideas by hosting a brainstorming session at your company to explore new opportunities that the holidays might present for your business. Get creative by putting yourself in the shoes of your customers. Ask yourself these questions: What's a unique need your customers might have during this time of year that your business could meet? Why might your product or service not be at the forefront of their minds? How can you get it to the forefront of their minds in a fun and friendly way?
Use Data to Identify Seasonal Trends in Your Industry
A strategic and data-driven way to put yourself in the minds of your target audience is to use Google Trends for identifying seasonal trends in your industry. Start by inputting your target keywords into the tool. This will return a graph that displays the popularity of the search term over time. Analyzing this data will give you a better understanding of how the needs of your target audience shift and change during this time of year. Can you identify any search trends in your industry that are particularly popular around the holidays? If you can identify trends, leverage this knowledge to tailor your marketing efforts and promotions accordingly. Action Item: Spend some time using Google Trends to research the popularity of your keywords over time. Identify areas that your audience is thinking more about during the holidays and take relevant action.
Create a Seasonal SEO Strategy
You've shown your appreciation to current customers. You've come to understand what their unique needs might be during the holiday season. Now it's time to take this knowledge and align your website's SEO with the holidays.
Optimize Your ECommerce Keywords
If you're in the business of ecommerce, you'll want to optimize your product pages to include holiday keywords, like "gift ideas" and "stocking stuffers." Explore this list of 103 Gift related keywords and their corresponding search volume for more ideas. You'll also want to identify long tail keyword opportunities using keyword research tools like Ubersuggest or "People also ask" on Google. Once you've determined your target holiday keywords, incorporate them into the title tags, header tags, and meta descriptions across your website.
Write More Holiday Blog Content
Content is a primary ranking factor when it comes to SEO, and the holidays present an endless amount of content ideas to write about on your blog! You can write gift guides, general holiday tips, and ideas of activities to do in your local area around the holidays. You can put a creative, marketing-focused spin on any blog, just always make sure you're delivering value to your clients with the content you write. Then, be sure to incorporate internal linking into the blog so that you can link back to the optimized product pages you set up in the previous step. Action Item: Choose at least one of SEO and Digital Marketing recommendations above that will resonate the best with your target audience and drive results for your business. Then, take action now to start implementing these efforts.
Follow These Holiday Marketing Tips
Spread the Cheer on Social Media
Incorporate the holidays into the content you promote on social media. Holiday campaigns, contests, and gift giveaways are a great way to drive engagement, give back to your followers, and promote your services or products. Many major companies like Starbucks and Bed Bath & Beyond have launched successful social media campaigns during the holidays. These campaigns have been fun, creative, and extremely engaging with users. Get inspiration for the different types of campaigns you can run on your social media this season from 9 Successful Holiday Campaigns.
Launch a Seasonal Pay-Per-Click Campaign
Launch a pay per click campaign using Google Ads to help drive traffic to your website. This can also be an effective way to advertise any special holiday deals or promotions you're running during the holidays. Use the holiday keywords you identified earlier to organize your ad groups. By following this strategy, you'll position your company in front of users and remain top of mind amidst the busyness of the holiday season. PPC presents a great opportunity to drive more leads and generate a positive return on investment (ROI) for your business.
Run a Holiday Promotion
There's always a buzz about special deals during the holidays. People are shopping more than they do at any other time of the year, and they're trying to get the best deals possible while they do so. Brainstorm some ideas for a holiday promotion that will allow you to leverage the energy and buzz around the holidays. Can you make any special offers or discounts? What is a limited edition product or service you can promote? Limited edition holiday promotions will encourage prospects to take action promptly, so make sure you take advantage of them.
Create a Targeted Email Marketing Campaign
Holiday email marketing campaigns are a great way to promote your business and deliver value to your customers. There's no need to oversell. Just kindly thank your customers for their loyalty, raise awareness of any upcoming events, and promote new products and services. Make sure you write a subject that stands out in their inbox because you'll be competing for their attention amidst the bombardment of holiday emails they'll be receiving.
Pursue Local Feature Opportunities
Identify opportunities where your business can be featured in local blogs, newsletters, or event calendars. Leverage your existing partnerships with other companies to see how you can feature each other's holiday specific promotions. Think about local blogs, magazines, or newspapers that have promoted holiday ideas in the past. Reach out to them to see if they would consider including you on this year's holiday features. For example, if you know of a local organization that typically publishes an article about "Unique gift ideas to give to your family this holiday season," reach out to them to see if they would consider featuring one of your products as a gift idea. This step will require more connections and active outreach, but if you can even get one holiday feature, you might be able to boost your business more than you have in years past. Action Item: Which of these holiday marketing tips will deliver the greatest value to your business? What special discounts or promotion can you offer to new or existing clients? Find your answers to these questions and take action now!
Everything Starts With Your Mindset
Above all, it's essential that you maintain a positive mindset. Sure, the holiday season can be daunting if these months have been historically slower for your business. However, a little bit of positivity can go a long way when it comes to developing your holiday strategy. Applaud yourself for being proactive... you're reading this article right now which is an excellent first step for making the most of this season. Be grateful for this opportunity to get creative and incorporate the buzz and joy that surrounds the holiday season into your business strategy. Take advantage of the lower stress levels and the quiet inbox. Fully embrace the good cheer of the holidays and let it flow into all areas of your business. Finally, spend quality time with family and friends because isn't that the most important thing of all during this time of year?
Get Ready for Your Best Holiday Season to Date!
With the holidays approaching, your business might be preparing for a slowdown. There's no need for this to happen, though! Make this your company's best holiday season to date by taking action on each of the action items in the steps above. By doing so, you'll be sure to set your business up for continued success, sales, and leads in the coming months. If you're seeking consulting and advice from a team of marketing experts, contact us today. We'll bring success to your business this holiday season with our proven marketing strategies.