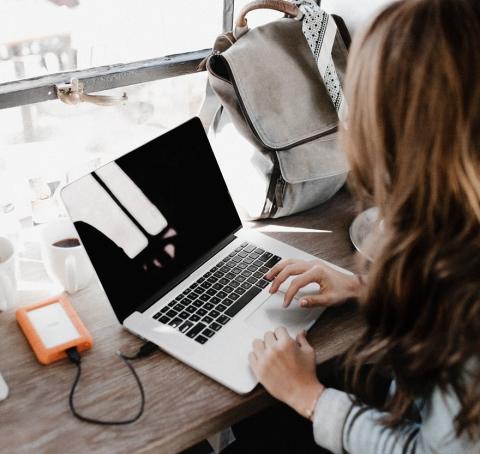 Whenever you enter a search term into a search engine, you are presented with several different types of information on the Search Engine Results Page (SERP). While you may be faced with ads, local listings, and shopping or image suggestions, the bulk of any search engine results page will be made up of metadata.
Metadata refers to the snippets of information listed for each individual web page within a SERP.
Each search result within a SERP will be broken down into two main sections: meta-titles (also known as title tags) and meta-descriptions (also called snippets). In this article, we'll break down the best practices for writing both meta-descriptions and meta-titles.

Metadata - A Welcome Sign for Every Page on Your Site
While metadata has only a minor effect initially on search engine optimization (SEO) efforts, it does have a direct impact on how a search engine user communicates with your search engine result. Metadata is your very first chance to make an impression with a search engine user. Since you want your search engine results to bring in as many qualified site visitors as possible, you'll want to make sure that every page on your site is equipped with metadata that is unique, relevant, and optimized.
How Metadata Affects SEO
As mentioned earlier, metadata has only a minimal direct effect on SEO. However, there are many factors contributing to SEO that affect how each page on your site is ranked within a search engine. One of the major factors in page rank is click through rate (CTR). CTR refers to how often each page is shown in search results compared with how often search engine users actually click through and visit each page.
Simply put, the higher a page's CTR, the more likely that page is to rank higher in search results. For this reason, optimizing your metadata ends up becoming an indirect but very important factor in your overall SEO efforts.
Using Keywords in Metadata
Since optimized metadata plays an important role in your indirect SEO efforts, it's important to create your metadata using high-level keywords you've already segmented for each page of your website. For example, the search query used below is "Denver SEO and Digital Marketing agency". Because nearly every keyword searched appears in bold within the meta-description, it's likely this result will catch a user's attention before a less optimized search result.

Best Practices for Writing Meta-descriptions
Meta-descriptions, also called "snippets", are short paragraphs displayed underneath each title tag within a search result. Meta-descriptions are typically written as full sentences and describe the overarching theme of a page. Though meta-descriptions have little effect on SEO, it's still very important to keep these as optimized as possible in order to increase CTR, as described above in the "How Metadata Affects SEO" section.
How Content Can Help with Meta-Descriptions
In many cases, writing keyword-optimized, unique meta-descriptions for every page on your website just won't be feasible. The good news is that as long as your page content is well optimized, you won't need to stress out about dropping everything else to write dozens of new descriptions right away. In the case where a page's meta-description doesn't list all relevant keywords, or even if a page is missing a crafted description altogether, search engines will produce a responsive meta-description based on the content within the page.
Note that in the example above, the meta-description at the top of this page contains an ellipsis at the end. You can also find an example in our video where I found one of our metadescriptions that began with a fragmented sentence. This is because Google pulled the header text from our Digital Marketing page as part of this particular meta-description. Google can choose to use all, part, or none of your crafted descriptions, which depends on a variety of factors including individual search queries and how well your page content is optimized. Read more about How Google Uses and Creates Page Snippets to learn about the different ways Google chooses and generates meta-descriptions and title tags.
A few things you'll want to consider when writing meta-descriptions are:
Length - Two Sentences is Ideal
It's ideal to keep your meta-description length around 150-160 characters, including spaces. This amounts to about two short sentences. Any longer than this and your description may become truncated (or cut off). While there is no penalty for truncated meta-descriptions, it can cause information you want to convey to be left out of our intended descriptions.
Keywords
Using high-level, searchable keywords are your best bet when writing meta-descriptions. However, in many cases you may have enough space to use additional keywords that will help vary your sentences and create more readable, detailed descriptions.
For example, the meta-description below uses high-level keywords to describe a fictional Pizzaria's delivery page. However, both sentences combined amount to only 123 characters.
Denver Pizzeria delivers pizza and Italian dishes to your home. Give us a call today to order for pizza delivery in Denver!
Instead, try using a few more specific keywords and creating a more interesting and optimized snippet. This one is also a bit longer but still within the character limit at 157 characters.
Denver Pizzeria delivers pizza, calzones, Italian pasta, and more to your home. Browse our online menu or give us a call today for pizza delivery in Denver!
Geomodifiers (for Local Businesses or Geo-Specific Pages)
Geomodifiers refer to the name of the town, city, neighborhood or zip code where the webpage is targeting. If you're running a local business, geomodifiers are extremely important for reaching people in your target area, and therefore can be thought of as another high level keyword for your webpage.
You'll want to make it clear to search engine users where your business is located in order to bring in local visitors who are more likely to convert. For this reason, the metadescription for each transactional page on your website should include a geomodifier.
Business Name
Your business name is an important keyword in your company's messaging. Therefore, writing your meta-descriptions to include your company name is common practice. However, meta-descriptions typically consist of just a few short sentences, it's not necessary to mention your business name more than once per description.
Use Full Sentences (and Keep it Custom!)
Readability is important when it comes to writing meta-descriptions. In the "old days" (10+ years ago) it was common practice to simply copy and paste a list of keywords as your meta-description. Nowadays, however, search engines analyze snippets for readability, including crawling your site to ensure you're using full, readable sentences. Additionally, search engine users will typically crawl meta-descriptions to determine if each page meets their needs.
For these reasons, creating engaging, readable meta-descriptions that give a search engine user a small taste of what your webpage will offer can lead to more relevant traffic and higher conversion rates.
Call to Action (CTAs)
Including a Call to Action (or CTA) is arguably the most important step in writing meta-descriptions. A CTA refers to a short sentence directing the search engine user what to do next. In the example above with Denver Pizzaria, the CTA is the last sentence "Browse our online menu or give us a call today for pizza delivery in Denver!".
Including a CTA in every meta-description on your site will help guide search engine users to understand what your site offers and how they can engage with it.
Best Practices for Writing Title Tags
Many website building platforms now have features that help to auto-generate optimized meta-tags for each page within a site based on custom parameters. While these features are handy and typically save a lot of time, it's still important to understand what goes into creating a title-tag in order to properly optimize this process.
Title tags are the short, fragmented snippets of information printed within the top tab of your browser. The same text will also appear in large letters and be hyperlinked to the webpage within each SERP result.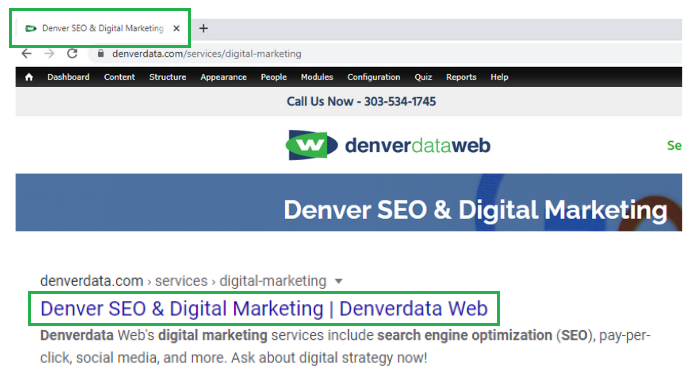 A few things you'll want to consider when writing title tags are:
Length - Keep it Short!
Because Google only allows a single row of text for each title tag, you'll want to keep each at a maximum of 55-65 characters, including spaces. Since space is so limited, you'll want to be selective about the information you include in your title tags.
Keywords
Due to limited length, it's ideal to use high-level, searchable keywords when writing meta-tag. These will be the "cream of the crop" keywords that describe the page as a whole and will often have high search volume.
Additionally, using keywords that describe the entire page will avoid "pigeonholing" the way more specific keywords can. For example, if you're working on a page for a local Pizzeria and the page label reads Thin Crust Pizza, then you'll want to avoid using keywords like pepperoni pizza or vegetarian pizza and instead focus on keywords that describe the entire page. A search engine user who reads a title tag that simply reads Thin Crust Pizza | Denver Pizzaria will understand what the page may be about many types of pizza, and therefore will not be turned away by a more specific subject matter that won't fit their needs.
Geomodifiers (for Local Businesses or Geo-Specific Pages)
Especially if you're running a local business, including the name of the town, neighborhood or zip code you're targeting (or simply, your geomodifer) in your keyword set is an essential step in reaching your target audience. Your geomodifier can be included in your keyword set for each webpage the same way as you'd include any other high-level keyword.
For title tags specifically, it's crucial to include geomodifiers in each and every title tag associated with a transactional page on your local business's website. Since your title tags are the first impression you make with a potential site visitor, you'll want to make it clear where your business is located in order to bring in local visitors who are more likely to convert.
Business Name
Your business name is likely used similarly to any other keyword on your website. While this is important for content and meta-descriptions, there is one very important thing to consider if you're using your business name in title tags. Because title tags have limited characters, a longer business name can sometimes take up most or all of that space, pushing out the possibility of using more important keywords.
For example, if the name of your company is Mannitoni Family's Italian Pizza and Pasta, then your company name is already using 42 of the allotted 55-65 characters. In this case, it may be advisable to either use an acronym for your business name or to omit using it for your title tags altogether. When it comes to title tags, allowing enough space for keywords and geomodifers that accurately describe each page on your site allows for better targeting and optimization than continuing to include the name of your business over and over again.
Avoid Filler Words
Continuing along with the theme of fitting as much optimization as possible into a 55-65 character limit, it goes without saying that you'll also want to avoid filler words in your title tags. Because search engines and search engine users will naturally skim (or crawl) title tags for keywords and geo-modifiers, it is not advisable to write these as you would a normal sentence. It's best practice to avoid words such as "the", "and", "of", and any other words that are not essential to your title tag.
To separate keywords for clarity, however, it's common practice to use ampersands (&) or pipe characters ( | ). Using these symbols will help you to keep your meta-tags clean and easy to read while still allowing plenty of room to use geomodifers and keywords.
Learn More or Reach Out to Denverdata Web Today
Thank you for reading our blog on the best practices for writing metadata. For a guided tutorial, please also watch our short video above or by visiting and subscribing to us on YouTube.
You may also visit our digital marketing page to learn more or give us a call for digital marketing and SEO services including metadata creation and more.