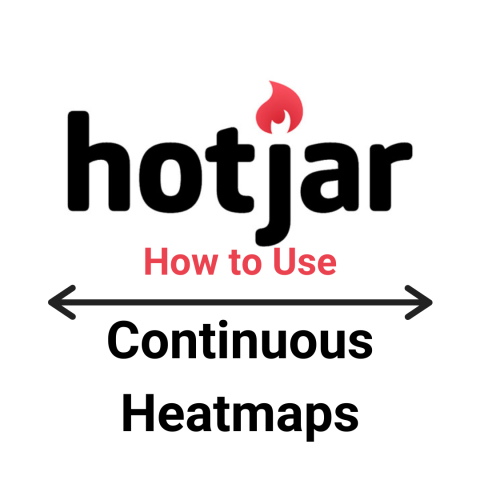 Using Hotjar Continuous Heatmaps
As of December 2020, Hotjar has rolled out the beta version of Continuous Heatmaps, allowing for continuous tracking of users' interactions without having to add a new heatmap each time a page changes.
For Hotjar users chosen to test the Continuous Heatmap beta version, the change will be obvious as soon as you log into the interface. Although Manual Heatmaps are still available during the Continuous Heatmap beta test, the interface automatically opens to the Continuous Heatmap view.
So how does one use Hotjar Continuous Heatmaps? The digital marketing team at Denverdata Web did some investigating, and this is what we found.
Specifying Which Pages to Track Heatmap Data
Using Continuous Heatmaps is simple. In order to begin, you'll want to make sure your Hotjar interface is toggled to the Continuous Heatmap view (instead of Manual Heatmaps). You can do this in the upper right corner of your Heatmaps view in Hotjar.

The next step is to customize your page tracking in Session Targeting & Tracking. You can navigate here by clicking Settings > Sites and Organizations and then clicking Site Settings next to the site where you want to specify targeting.
Once in Site Settings, scroll down to Session Targeting & Tracking, and click to expand the section. Here, you can specify individual URLs using Simple URL Match. You can also specify larger groups of URLs to track using other identifiers such as URL Contains, URL Starts With, and so on.
Once complete, click the green Save Changes button at the bottom, and you're set to start tracking!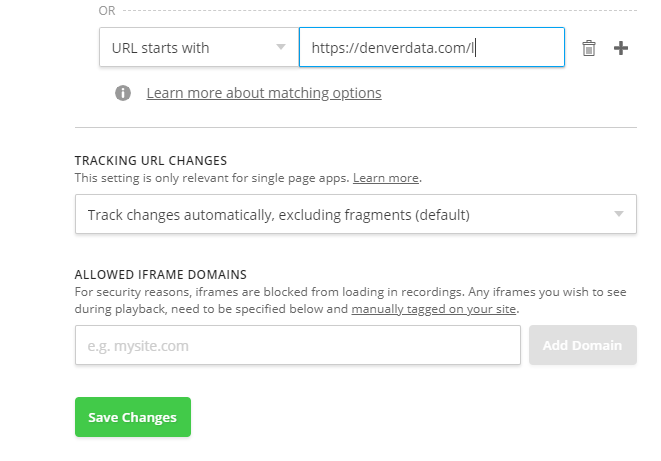 Reviewing Continuous Heatmap Data
Reviewing the Continuous Heatmap data is also simple, but the process varies from that of viewing Manual Heatmaps. Instead of choosing from a list of previously implemented heatmaps, viewing a Continuous Heatmap requires entering a URL or other URL identifier into the Heatmaps: Continuous search menu.
From here, you'll be able to see available heatmap data for the URL entered in the same view as any existing Manual Heatmap data.
If no data is available for the page, you'll receive a message that reads "No heatmap data matches the current filters". This does not necessarily mean that your URL is not being tracked, but rather that no user data is available yet for that specific page.

Continuous Heatmap Concerns
As a frequent Hotjar user, this update is something I've been wishing for for quite some time. However, it does raise a few questions about some important Hotjar functions.
It's important to realize that Hotjar Continuous Heatmaps are still in beta for the time being, meaning that Hotjar is relying on their users to analyze and report usability issues and concerns via Hotjar Documentation.
Comparing Continuous Heatmap Data from Before & After Page Updates
The most pivotal concern with Continuous Heatmaps is the decreased ability to cross-compare user interactions taken before and after updates to a web page. For Hotjar users, this feature may be the most important Hotjar function.
The expectation is that Hotjar will find a solution to this issue by the time Continuous Heatmaps are no longer in beta. In the meantime, Manual Heatmaps can still be used to perform this function.
"URL Contains" Search Function Delivering Limited Data
While not as crucial as losing the ability to cross-compare page updates, one other confusing find with the beta version of Hotjar Continuous Heatmaps is the limitation when searching for Continuous Heatmap data.
To put this into perspective, the team at Denverdata Web set up several URLs to begin collecting data, many of which contain the word "digital". Of those URLs, I was able to find that at least three have begun collecting data about user interaction.
Viewing each of these URLs separately, I was able to see that this is the case. However, an issue arose when I tried to use the "URL Contains" function using the identifier "digital".
Even after confirming that I can see data for three individual URLs matching this identifier, the results for this search deliver data for only a single URL. Scrolling up and down the page, there is nothing alerting me that there is another URL to view, and no way to scroll or view additional data.
We can be hopeful that this is another issue that will be resolved by the time Continuous Heatmaps are no longer in beta. But for the time being, an easy workaround for this glitch is to simply enter the full URL into the search bar.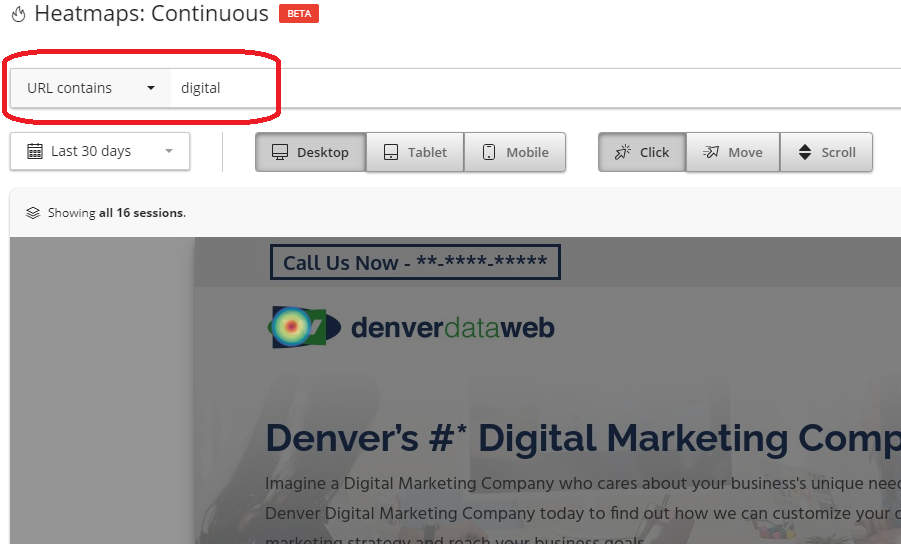 Follow Us on Social Media for More Tips & Tricks
We hope this article helped you to learn a little more about the beta version of Hotjar Continuous Heatmaps. Follow us on LinkedIn, Facebook, and YouTube to stay up to date on more tips, tricks and tutorials from Denverdata Web!