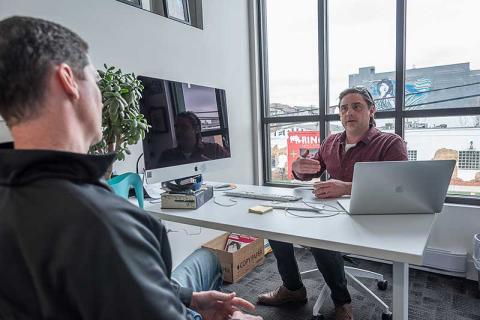 Describe the performance of your website. Do the words secure, fast, and reliable come to mind? If not, then your web hosting platform might be to blame. While you might recognize a need to focus on this side of your business, you have other important matters fighting for your attention.
At Colorado Digital, we are always striving to make the lives of our customers easier with new and innovative web-based solutions. We understand that you're not in the web business, and you might not have the tech-savvy to improve your website's performance on your own. We provide you with the freedom to focus on what you do best without having to worry about hosting and maintaining your website.
We are problem solvers, so we've developed a solution that protects your site from attacks, ensures it loads quickly, and provides it with maximum availability. We're excited to announce our new high-availability managed hosting solution: Colorado Digital's HPS™ Managed Cloud Hosting.
This package combines amazing customer support, high performance cloud hosting, and ongoing security updates backed by Colorado Digital's exclusive Service Level Agreement (SLA). The result is high website availability, increased SEO strength, and peace of mind for your business, all for a predictable cost.
Start saving your time, money and energy by putting your website into the care of experts. When you switch to our hosting solution, you'll have greater peace of mind about your website with these benefits:
Enhanced Site Performance
5-10x faster website performance resulting in a streamlined user experience and immediate improvements to Google search rankings.1
Essential and valuable items like security certificates, DNS, and Google's CDN (content delivery network) for faster site performance across a broader geographic region.
Service Level Agreement (SLA) ensures there is little or no unscheduled downtime with your site.
Peace of Mind
We apply security updates as they are released to prevent malicious activity on your site.
Nightly offsite backups, with restore/recovery as requested at no additional cost.
24/7 uptime monitoring.
Reliable Customer Support
"Unlimited" web support for most common questions or problems that you might encounter for no additional cost.
Fixed monthly pricing so that you won't get broadsided with a surprise invoice every time you have a question or need some help.
With all of these features combined into one competitively priced package, the Colorado Digital HPS™ Managed Hosting Package is one of the best value managed hosting and support options on the market. When you choose to host with us, you'll receive an unparalleled level of support and service from our team of experts.
We work hard to make your job easier by managing all elements of your hosting and making sure your site is operating at its full potential at all times. We've got you covered - full service, one price!
Focus on what you do best and leave the web hosting to us. Contact us to learn more and take advantage of our managed hosting and support packages.
1 Research has indicated that websites that deliver content quickly have higher Google search rankings than those that don't. Data has shown that improving back-end website performance (servers and back-end infrastructure) improves search engine rankings. Learn more by reading this blog post from Moz.