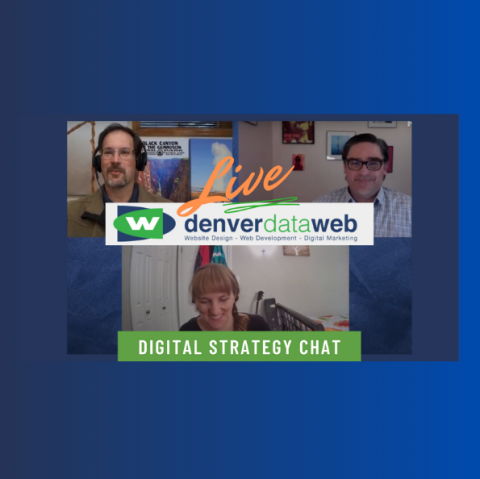 Introducing Denverdata Web's Weekly Digital Strategy Chat!
Join us Each Friday at 11:30 am MST on YouTube Live
Beginning in late 2020, the team at Denverdata Web began hosting our weekly Digital Strategy Chat webcast. Join us each Friday from 11:30 am MST for discussions on digital marketing, digital strategy, search engine optimization (SEO), pay-per-click (PPC) advertising, web design and development, and more.
We also encourage you to submit questions about digital marketing and strategy via our contact page. Questions will be featured and answered live on a corresponding future Digital Strategy Chat.
Where to Watch Digital Strategy Chats & Clips.
YouTube
YouTube (and YouTube Live) is the primary streaming platform for our Digital Strategy Chats. You can watch live streams of our events, pre-recorded chats, and featured clips. Find out how below!
Facebook
Facebook is the second platform where we Live-stream out Digital Strategy Chats. Like and Follow us on Facebook to find all Digital Strategy Chat related content and the latest Digital Strategy Chat news.
Like and Follow DDW on Facebook to learn more
Facebook Live Streams
Pre-recorded Webcasts
Clips & Recaps
LinkedIn
Though we don't currently stream our Digital Strategy Chats live on LinkedIn, we do post video clips and scheduled events on our LinkedIn page to share with our connections. All LinkedIn content pertaining to our Digital Strategy Chats can be found via our main LinkedIn page.
Connect with DDW on LinkedIn to stay updated!
Scheduled Events
Clips & Recaps
Twitter
If you follow us on Twitter, you'll be able to watch both our Twitter Livestream as well as featured clips from our weekly Digital Strategy Chats.
Follow DDW on Twitter to learn more!
Twitter Livestreams
Clips & Recaps