Summer Savings
Check out our summer deals! Get free upgraded SEO services and 10% off web design or hosting packages. Now through Sept 1st.
Denver's Best Monthly Web and Ongoing SEO Package
What is WCS™ Managed Web & Digital Marketing?
At Colorado Digital, we offer a monthly website maintenance package designed for success! For one affordable monthly payment, our Denver team builds you a plan designed to grow with your business. Whether you're a small business with big ideas or an established company that has outgrown your current website or marketing plan, our monthly package is structured to help you reach and exceed your business goals.
Colorado Digital's WCS™ Managed Web & Digital Marketing package includes several of our professional services for one monthly payment!
What you get with our Website and SEO Package:
Features of the plan include: 
A full-featured, professionally designed marketing website that achieves your business goals now and in the future.

Incremental enhancement of website features and SEO marketing initiatives over time.

Easier costs involved with superior website ownership and long-term marketing strategy.

A professional partnership and ongoing service with expert digital strategists and web designers.
Is a Monthly Maintenance Package Right For Me?
Our Web and Digital Marketing plan is one almost any company can justify. However, the important thing to think about is whether or not an all-in-one marketing and web package is right for you and your business goals.
A monthly website and digital marketing plan may be best for your company if you:
Features of the plan include:
Want peace of mind knowing your marketing and website assets are in expert hands.

Don't want to get involved with the smaller details. You'd rather let the experts take care of things.

Are comfortable letting our team guide and implement your marketing strategy.

Need professional services to be priced in a more predictable and sustainable program.
Our Web Security and Maintenance Services
Why try to keep up with all the new features yourself when you can have a team of professionals update your site, address any update issues, and inform you of new and exciting features these updates provide?
Website Security Updates
Colorado Digital constantly monitors WordPress and Drupal platforms for reported security issues, and updates sites to help keep them safe. You'll never have to worry about keeping your site secure with a team of experts keeping your site updated with the latest WordPress or Drupal security updates!
Performance Enhancements
A slow site costs page rankings, site visits, and ultimately business! Our team of experts can help you diagnose and resolve troublesome performance problems, keeping your visitors happy and engaged. As improvements in the code are released, we'll make sure your site has the newest and fastest code available.
Website Maintenance 
Whether it's backup and recovery, uptime monitoring, or broken link testing, Colorado Digital provides a host of website maintenance services to keep your site healthy and running smoothly.
No More Paying for Sub-Par Services
Plenty of digital companies offer all-in-one marketing and web packages. However, it's crucial to understand that not all companies or packages are alike. Many of our new customers come to us having been burned by previous firms who weren't able to deliver on their claims.
We Only Succeed When You Do
At Colorado Digital, we live and work by an effective ideology - We only succeed when you do. We never take part in poor practices such as cutting corners or carelessly speeding through projects.
Instead, we take the time to learn about your business goals, stories, and specific needs before ever launching into your project. This is one of the many reasons why you'll often hear us refer to our customers as our partners. We like to think of ourselves as your partners in success, and it shows in the work we do.
100% Local Industry Professionals
Our Denver-area team is built with 100% local industry professionals, each with years of experience in their fields of expertise. We never outsource and we treat every project as if it was our own. Our teams continually collaborate to ensure the highest degree of quality throughout each stage of your project.
Digital Marketing Analysis
Included with every web and SEO package is our premier in-depth Digital Marketing Analysis (DMA). This step is essential for building out your project to help reach and exceed your business goals.
We begin your DMA by reviewing your current SEO and marketing stats and efforts to determine what works and what can be improved. We also analyze industry trends along with effective tactics used by your competitors, and we use this information to build a well-rounded plan for success.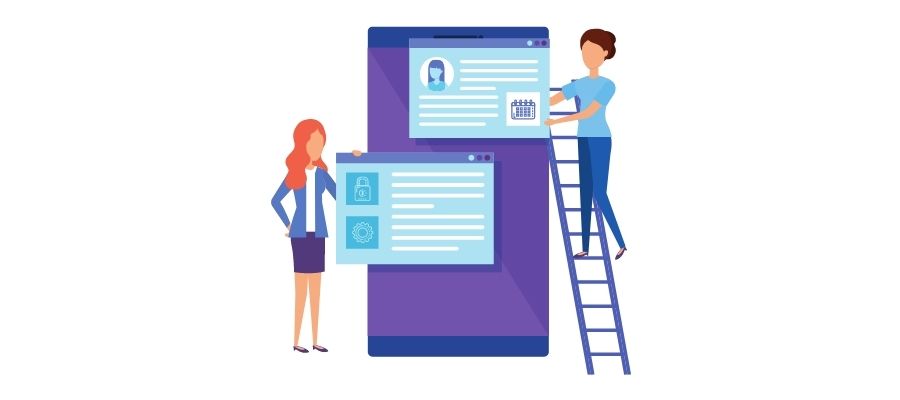 Great New Website with Built-In Redesigns
One of the most appealing features of the WCS™ Package is that you will receive a brand-new website that is designed to grow with your business. Our team will work with you to ensure your website is customized to fit your company objectives. Your website can be built to showcase what makes your company unique along with the services, products, events, or media offerings you provide.
What's more, is that your affordable monthly cost includes built-in redesigns every three years. This means that your website will never look outdated and you'll never have to scramble when it's time to update your website as your company grows.
Ongoing SEO
Ongoing Search Engine Optimization (SEO) services are also included in your WCS™package. SEO involves taking action to improve your website's rankings within search engines. For most industries, good SEO is essential for continual business growth. Some SEO companies may try and optimize your site quickly and carelessly during the website building process. However, continual and strategic ongoing SEO has been proven to be the most effective method for long-term success.