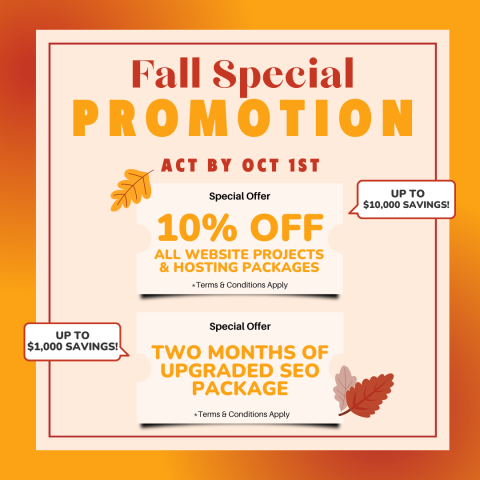 FREE Premium SEO Package Upgrade
Sign up for a year of our SEO services before October 1, 2023, and we'll upgrade your package for the first two months. That means if you choose our Growth Accelerator tier, you'll get upgraded to our Market Dominator tier but at the Growth Accelerator price! With potential savings of up to $1,000, there's never been a more advantageous time to strengthen your digital footprint and invest in your business.
Here's the power-packed deal you'll get:
Expert SEO Services: Our experienced team will utilize their expertise to craft a strategy to boost your online visibility, optimize your SEO, and design engaging content strategies that align seamlessly with your unique business objectives.


Turbocharged SEO Packages: For the initial two months of your contract, we'll supercharge your package, delivering upgraded SEO services that accelerate the achievement of your goals. That means more quality leads, sales, or whatever your objective is – faster!


Savings Of Up To $1,000: Depending on the plan you choose, this Supercharged Summer promotion could yield annual savings of $1,000.


Your Satisfaction Is Guaranteed: If, after six months, you're not seeing the results you anticipated or are dissatisfied for any reason, we will do whatever it takes, within reason, to earn your confidence, or you can opt to exit the contract.
Take advantage of this exclusive, limited-time opportunity! Sign up before October 1st to tap into these significant savings and let us put the pedal to the metal on your SEO journey.
Please Note: The "upgraded package" is applicable only for the first two months of the 12-month contract.
10% Off All Web Design / Website Projects and Managed Hosting Packages
Looking to upgrade your online presence? Act before October 1st and receive an exclusive 10% discount on your website project or first year of annual managed hosting, security, and support services. This can apply to web design and web development for a Drupal, Wordpress or other CMS based websites, and many other web projects - just ask!
Professional Website Design: Our team of experienced designers and developers will work closely with you to build a custom CMS based website that not only looks great but also functions seamlessly and meets your specific business needs. And we deliver our sites at a fixed cost so there are no surprises


Managed Hosting, Security, and Support Services: We offer Pantheon managed hosting, as well as Wordpress/Drupal security maintenance, and our exclusive "unlimited" Web support. All for a predictable fixed monthly cost. We are a Pantheon hosting partner, ensuring you get the highest performance and greatest peace of mind.


Get A Sweet 10% Off: Act fast and you can take 10% off the cost of your website design and development project if you lock-in before October 1, 2023. Similarly, take 10% off your first year of all annual Hosting, Security, and Support packages initiated before October. Depending on your needs, this could represent significant savings.


Your Satisfaction Is Guaranteed: If you ever feel dissatisfied, we will do whatever it takes, within reason, to remedy your concerns.
Take advantage of this opportunity to save on a website that could transform your business. Get in touch before October 1st to secure your 10% discount and start your journey towards a more powerful online presence.