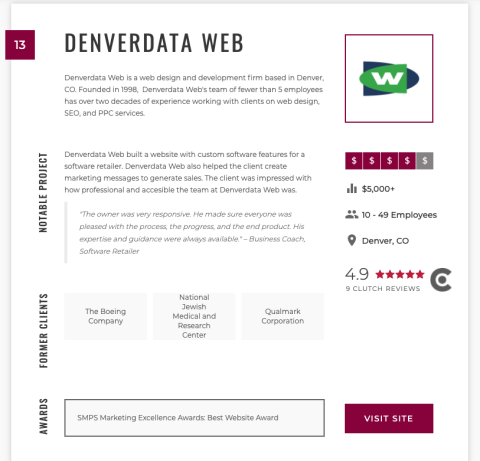 Serving the Denver Community: Web Services for Small and Local Businesses
Small businesses are the backbone of the American economy and economies around the world. According to a recent report, small businesses with fewer than 500 employees make up 99.9% of all businesses in America. Businesses with fewer than 100 employees account for 98.2%, and those with fewer than 20 employees account for 89% of all businesses in the United States.
As a small business ourselves, we know that it's not always easy to navigate the economy, especially right now. Now more than ever, we recognize that small and local businesses need our support. We want to take this time to show our appreciation for our own employees, and for the other small businesses that we've worked with over the years. We also want to share some ideas with you on how you can support local and small businesses during this time.
Proud to Serve Small Local Businesses in Denver and Beyond
Denverdata Web prides itself on being a small web company with big company expertise. We provide the same quality of services with the personal touch that only a small business can offer. We build personal relationships with each of our clients while delivering professional web solutions that leverage the most powerful technology in the industry.
We've been able to showcase the efforts of our amazing employees and hear from our most successful clients thanks to platforms like Clutch and the Manifest. Both platforms are free for users and vendors who list their company. Clutch is a B2B ratings and reviews platform, and the Manifest highlights leading business leaders in different industries and places.
We're happy to boast an overall rating of 4.9 stars. We recently received a review from a project we worked on with a small architectural firm based in Denver for whom we provided web design and SEO services. This project not only improved the functionality of their website, but increased leads as well. This is what the client had to say about our team:
"...Their professional manner stands out. They're great listeners that are always available."
We look forward to continuing our work with this client and with other businesses within the Colorado community. Although times are tough, we want you to know that you have our support.
We at Denverdata Web wish to extend our sincere thanks to those of you who have taken the time to leave us a review. If you haven't had the chance yet to submit a review, you can do so on Google or our Clutch profile. If you have any questions or are interested in our services, please feel free to contact us.
How You Can Support Small and Local Businesses Right Now
As a consumer or a small business owner yourself, you might be wondering how you can support local businesses right now. Here are some unique ideas we'd like to share that you can act upon right now:
Leave An Online Review Of Their Business
A single review can do so much when it comes to supporting a business. Not only does it provide an immediate morale boost to employees, but it also helps increase the business's SEO, visibility, and reputation online. Think for a moment about products or services that you're really satisfied with and the companies that provided them. Then show your support by taking a moment of your time to leave a review for those companies on Google, Facebook, or Clutch. You'll build their ratings and help other customers find their business.
Promote Local Businesses on Social Media
When you're happy with the work someone has done for you, share the goodness by promoting their business on social media! You'll help them expand their audience by connecting them with potential customers who may not have heard of their business otherwise. In this blog article, our friend and client Joyce Feustel shares how she used social media to promote her chiropractor to over 2,000 people.
Shop Local
When you shop locally, not only are you supporting your local economy, but you also get high quality products or services with a personal touch. It's a great way to infuse meaningful connection into your everyday tasks by building ongoing relationships with small business employees and owners. During this time, it's important to continue supporting your local businesses. Check in on the local businesses you do work with, see how they're doing, and continue to spread the good vibes and generosity.
Collaborate And Build Community With Other Small Businesses
Feeling connected with a greater community is an important part of finding fulfillment both in your personal and professional life. Denver has an amazing community of local B2B businesses that you can become a part of. If you're interested in joining a supportive community of businesses in the Denver metro area, consider joining the Denver Area B2B Networking Group. On a monthly basis, our group meets with the goal of creating an environment where Denver B2B businesses can collaborate with one another and grow their networks.
Thank You Denver Business Community!
We're proud to be able to serve the Denver community as a small business. It's with immense gratitude that we reflect on how far we've come in over 20 years, and we have great hope for the future due to the unfailing support of our clients and local business partners. Thank you to everyone.
And remember, there are a multitude of ways that you can support small and local businesses during this time. We encourage you to check in on and give back to others within your professional network. Put forth a little extra effort, and ask them how you can help or serve them during this time. Generosity is contagious, and we can all play a role in spreading positivity right now. Together, we can support small businesses - the backbone of the American economy.
Contact us today to learn how we can help you and your business right now.