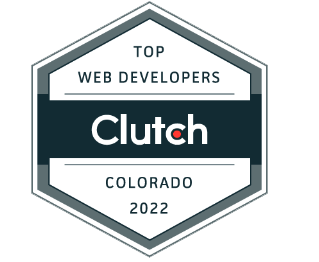 Denverdata Web Awarded as a Top 2022 Web Development Company in Colorado by Clutch
Denverdata Web is a trusted partner to growing businesses on the road to modern success. We deliver ubiquitous web development, web design, and digital marketing solutions tailored to your brand identity and designed to help you reach your goals. Moreover, we work closely with businesses of all sizes as they aim to overcome their evolving digital challenges.
Today, we're thrilled to report that we were recently recognized as a leading company on Clutch. In the B2B platform's latest research, we were listed among the top web developers in Colorado this year! Additionally, we're named as a top B2B company on Visual Objects, one of the best B2B business guides.
"We are extremely proud to receive this award and to know that Denverdata Web has positively impacted our customers and helped them achieve their goals!"
— CEO, Denverdata Web
More About Our Web Development Services
Read Our Reviews 
Clutch is a ratings and reviews platform committed to connecting small, mid-market, and enterprise businesses with service providers anywhere in the world. Clutch serves as a valuable resource to organizations in their search for the most capable vendors to help them overcome any challenge. The platform arms researchers with confidence through its feedback collection process.
Take a look at the latest reviews on our Clutch profile:
"They're very responsive to the needs of their clients; they don't push their own agenda. They continue to build their internal expertise, and they've stayed ahead of other B2B providers of their size."
— Elizabeth Mower, President, Business Enterprise Institute
"It's tough to pick only one impressive thing about them, but their professional manner stands out."
— Robin Adams, Architect & Partner, ArcWest Architects
Thank you to our clients for sharing their honest and helpful opinions about our work!
If you're interested in what Denverdata can do for you and your business, please get in touch!